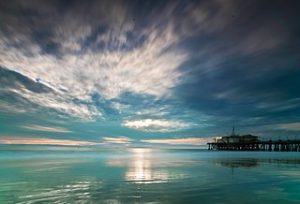 (Image by Boqiang Liao from Athens, Ohio, US, CC BY-SA 2.0, via Wikimedia Commons)
Scene 2: The View from the Crest
Monday after school, Karen stopped at home only long enough to give her Mama a hug and a kiss before changing into her riding jeans, a red flannel shirt, and her tall Texas boots. She needed to talk with Pegasus.
At the ranch, they made small talk as she saddled her friend and mentor, but once she mounted him, the conversation stopped. They trotted out of the barn and onto a steep trail.
Pegasus gulped for air as they approached a crest above the ocean. "Kitten, I can tell you're upset by the way you feel on my back. Give me a clue. Maybe I can help. It's not bullies or sadistic adults at school, again, is it?"
They reached a crest and looked out over the Pacific. Karen took a deep breath before trying to explain.
"No, it's something deeper, something inside me that needs to get out. Something that needs me to express itself. I need to dance, or something inside me needs to dance. I don't know which. Whenever I see dancers, my legs move. My body sways. I feel the music inside me. Other people listen, but I am not just listening. It's more like the music takes over me. It demands that I move, and in ways I haven't been able to figure. Even if I am paralyzed on one side, I can still move. I can still dance, but I need help, and I'm desperate to find it. I've dreamed of becoming a dancer, but this is different. It is not dreamlike at all. It is as if the dancer in me is taking over my life."
Pegasus took a moment to catch his breath. "My intuition is showing me your teacher. I can feel his presence. He is a little taller than average, of Italian descent, kind and wise. He is near, and you will meet him soon."
Original text ©2022 by Karen Lynn-Chlup. All rights reserved.