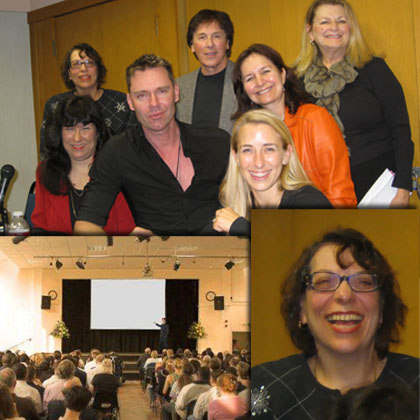 PUBLIC SPEAKING:
Lectured at Long Beach Unified School District, "On Inclusion" 2001
Guest reader: VSA Arts, of New Jersey, 2005
Delivered a paper "Are Scientific Advances Overshadowing Human Values in Regards to People with Disabilities," Monash Faculty (School) of Law, Melbourne, Australia, 2006
Rancho Los Amigos National Rehabilitation Center, CA. "Diversity & Unity" May 2006
Kean University, New Jersey, lectured at two American Civil Society classes on"Discrimination & Achievement", Nov. 2006
California Rehabilitation Services, autobiography, March, 2007
Joseph Pomeroy Widney High School, guest speaker for the graduating class of 2007, on "Empowering One's Self", June 2007
Kean University, Union, New Jersey, addressed the Historical Society on "Discrimination and How We Can Help Other Disabled People Attain their Career Goals," April, 2008
Independent Writers of Southern California, Culver City, CA. Sat on a panel discussion about writing for/with/by/about disabilities, November 2010
United Cerebral Palsy of San Diego County, People First Conference Keynote Speaker. "Living Longer, Growing Stronger" May, 2015.
PUBLISHED MAGAZINE ARTICLES:
LD Online, online article, "Different Stages in a Learning Disabled Writer's Life", April, 2008
Saga Journal, "Between Reality and Mythos", April 2008
"Audacity Magazine, "A Trip of Thanksgiving", November, 2008
"The Ruling Thoughts of Fear", October, 2008
"Peering Eyes Watching" September. 2008
"The Pied Piper's Taps", July, 2008
"The Trip I Took to the East Coast to Speak for Our People: Pushing Forward," June, 2008
"If I Can, You Can" April 2007
INTERVIEWS:
TELEVISION- KNBC NEWS, CHANNEL 4, May 1985
RADIO, U.C.L.A. Sculpture Garden Project for Disabled Women, "On Cue" Sound Company, April, 1986
NEWSPAPER- Senior World Newspaper Article, January, 1988
INTERNET – coolpeoplecare.org, "Cool People in the Community: Whispers of Hope Inspires", October. 2008
INTERNET – Funky Flamingo TV- August, 2008
VIDEO CLIP, "Born to Dance" realhealth.tv,  Jan. 2007