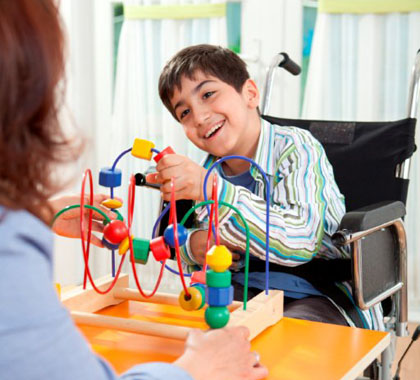 Karen Lynn-Chlup says "If I can do it, you can do it."
You have a disability, but you know that there is more for you in life—no matter what they say. You're tired of settling for a boring job or a life of day care and TV. You want to thrive, not just survive.
You have a family member with a disability, and you're worn out. You don't know how to help. You don't know where to turn, and it seems like even the resources that should be there for you are no help. And nobody gets it.
Karen gets it.
Karen has spent her whole life doing what people said she couldn't, fighting against a society and system not made for people with disabilities—and helping others live their lives outside the box as well.
Karen calls herself a disability support specialist, but really she sees ability. She starts and stays focused on what people can do.
For Karen, what you can do means what you can do right now—and what you have the potential to do.
Karen jokes that her clients come to her for her smile. Along with her joyful attitude, deep caring, and dedication, Karen brings first-hand understanding of the challenges and attitudes faced by those with disabilities and decades of experience overcome those challenges.
Individual One-on-One Coaching
Whether it's moving a baby finger or working toward a doctorate, Karen can help you toward your goal. She starts with each person where they are—mentally and physically.
Together you'll break down tasks into manageable steps. Karen is there each step of the way, to encourage you and help you increase your self-belief by focusing on each accomplishment (no matter how small) as she guides you onward to your goal.
Karen knows about the kinds of barriers you run into—from "you'll never amount to anything" messaging to bureaucratic red tape—because she's fought through them herself. She'll never let you settle, and she'll motivate you to push past limitations you and others have previously set to achieve real progress.
It's time you found your voice and pursued your dreams.
Contact Karen for a free 30-minute consultation.
Family Member and Group Coaching
In addition to working with individuals with disabilities, Karen works with families to get past overwhelm and frustration by finding tools and resources to help their loved one. She teaches families to notice and overcome perceived limitations and how to support someone with a disability while empowering self-sustainability. Families who work with Karen as a coach feel heard, empowered, and better able to support their family member in living their own life.
Take the Next Step
Are you ready to take steps toward a life based on your dreams not the box somebody else put you in? Are you thinking, "I can't give up. There's something better than this life for me?" Do you need resources and support—and just somebody to listen?
If you want to go beyond others expectations and develop a meaningful life or need help to support a loved one, contact Karen for a free 30-minute consultation.