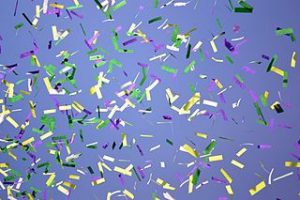 On the bus home after her school report, Karen gets a happy surprise as the other kids cheer her.
If you enjoy my writing, please like and share.
Scene 9: Cheers for Karen
The kids on the bus home from school were rowdier, and happier, than usual. The ones who had seen Karen's presentation had told the others, and word had spread through the school.
"Karen did an A+ report… Teacher couldn't believe it… Then she showed him how she did it… He almost cried, he was so happy… We cheered, and then she told us if she could do it, we could do it too.
As Mr. Hinton slowed the school bus near Karen's house, cheers went up. The students chanted, "Ka-ren! Ka-ren! Ka-ren! Yay!" over and over.
Tammy, who rarely tried to speak to anyone other than Karen, raised her voice and said, "Let's all remember what Karen said. We don't have to let our disabilities stop us. If Karen can do it, then so can we!"
Amazingly, her words came out crisp and clear. The uproar in the bus stopped. Everyone looked at Tammy and nodded.
Mr. Hinton stopped the bus and opened the door. Karen stood up. As she walked up the aisle to the front of the bus, all the students who could reached out to shake her hand or pat her on the shoulder. Mr. Hinton said, "Karen, the whole school is proud of you."
She hopped down to the ground and waved as the bus drove away. She was tired. It had been a great day, but emotionally exhausting.
Mama had warned Karen that she would have to work late, so she would not be home until after Karen returned from school. So instead of going into the house, Karen headed for the stables. She needed to talk with Pegasus and get herself centered.
Original text ©2022 by Karen Lynn-Chlup. All rights reserved.