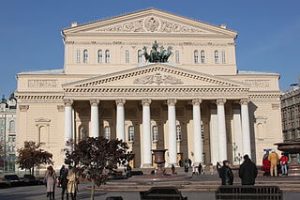 (Photo of Bolshoi Theatre courtesy of Moscowjobnet, CC BY-SA 4.0, via Wikimedia Commons)
Scene 1: Tickets to the Bolshoi
Months passed. The weather cooled, and the holiday season arrived. One Monday, after a long day at school, Karen changed into a black leotard and pink tights in her bedroom. She did not have a lesson, but she always felt more like a dancer when she dressed the part. She admired her image in the mirror behind the barre Gilberto gave her, then began her warm-up with pliés and bends.
From the front of the house came the sound of Mama opening the door, followed by the jingle of her keys as she dropped them into the china dish on the cherry entryway table. "Krana Layala, I'm home!"
"Hi, Mama! I'm warming up to practice my ballet."
Mama's high heels clattered on the hardwood floor, then she peeked around the half-open bedroom door.
"I have a surprise for you."
Without pausing her routine, Karen turned to face her. She did not want to lose her training time. "Thank you. I'm sure I'll love it."
She moved into the next position, but Mama handed her two theater tickets. She glanced at them and returned to a normal standing posture. "The Bolshoi? Here in California?"
"Yes, the Bolshoi Ballet Company is here to perform Swan Lake. And we have tickets."
Karen threw her arms around her mother, and tears of joy flowed from her eyes. "Oh! My goodness, Mama! You completely got me by surprise. Thank you."
Mama kissed her on the forehead. "Ah, my Krana Layala, life is full of delightful surprises."
Karen wondered what she meant by that.
Original text ©2023 by Karen Lynn-Chlup. All rights reserved.