Karen Lynn-Chlup is an author, speaker, disability support specialist, and special needs advocate.
As a disability support coach and special needs advocate, I'm here to say, "We can."
I know first-hand the struggles of living with a disability. An adverse reaction to a shot as a baby put me into a coma. At 18 months, I was diagnosed with left-side hemiplegia, cerebral palsy. With that diagnosis came physical challenges and a learning disability. And with that came people saying, "You can't."
But I refused to settle.
"You tell me I can't, and I'll show you I can."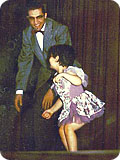 At age 3, I started dance lessons. While everyone else saw a disabled girl with a brace, my teacher, Al Gilbert, saw a little girl who wanted to dance. He taught me how to hop, skip, jump and run—and most importantly—to DANCE!
That is the power of hope and hard work. That is the power of you can.
By believing in me and giving his time and dedication to help me reach my potential, Al made a huge difference in my life. Al inspired me to help others unconditionally. Having somebody believe in you—and work to help figure things out even when they seem hard—matters.
Just as important, I learned to believe in myself, and how to believe in yourself is one of the most important lessons I teach people. I'm one of the loudest cheerleaders there are telling people they can achieve amazing things, but they have to want it bad enough for themselves. Nobody can do it for you. You can choose to just survive, or you can go after what you want and thrive.
Break through Every Barrier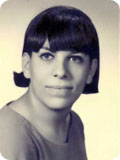 When they told me I was borderline mentally retarded and couldn't go to college, I learned again to rely on myself—and I learned to fight back.
I tried working in a factory, as the California State Department of Rehabilitation suggested, but knew I was capable of so much more. So I wrote letters to legislators and even President Carter. I filed—and won—one of the first Civil Rights Cases under Section 504 of the Rehabilitation Act of 1973. And I went to college in 1980.
Things have changed since 1978 when I won that case, but not enough.
People still don't want to see people with disabilities. We need to continue to work to make sure people with disabilities are accepted and able to play and live and work.
That's why I work so hard to change the thinking away from what people can't do to finding ways to let them do all they can. I work to show people outside the disabled community what obstacles still exist. I teach teachers, counselors and families how to work with people with disabilities to help them focus on their abilities.
Sometimes it's as simple as stepping back and letting somebody make a decision for themselves; sometimes it's teaching them how to write or finding the tools that let them communicate.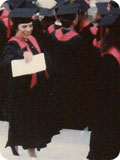 Instead of pushing people into a disabled box or a CP box or a retarded box, we need to see people for who they are. We need to embrace our differences. Each of us has something to offer. Each of us should have a chance at a meaningful life.
We need better education, healthcare, playgrounds and job opportunities, and in some places better laws to ensure rights are protected. There are stigmas and assumptions to overcome. But with all that, I come back and offer hope. A hope that comes through teaching others how to shift their mindsets and attitudes so they can make positive change for themselves or loved ones they care for.
I never gave up on myself or my dreams. I did not listen to the thousands of people who told me that "I'd never amount to anything" or wondered "How can she teach dance with one arm and leg?" or "How can you learn with a learning disability?"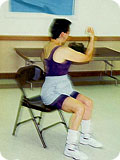 With one arm and leg, I've taught dance and adaptive fitness programs. With that learning disability, I went to college and wrote a book. With fierce determination, I became a disability support coach, a keynote speaker, and an activist.
I have never given up on being a voice for dreaming and achieving in the face of adversity—and I never will. The greatest gift I can received from clients and audiences alike is when I hear, "If Karen can do it, I can too!"
Work with Karen one-on-one or as a family.
---
Bring Karen's message of empowerment and inclusion to your organization or upcoming event.