When Karen and Pegasus enter the Séance Room, they receive a mysterious welcome, and Karen's intuition tells her that what they are about to experience is Disney magic just for them.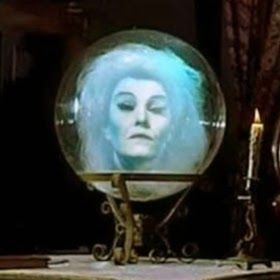 Here is a picture of Madame Leota, the disembodied medium of the Haunted Mansion, the floating face who appears in this scene. Thanks to madam3leota on Pinterest for the image. I don't know the original source.
And if you are curious about the woman whose face appears in the glass sphere, look at this article. She was an artist and one of the original Disney Imagineers, Leota Toombs Thomas.
Scene 9: Madame Leota
Karen peeked into the room beyond the door, then Pegasus stuck his head in above hers. They saw a room that was almost dark. A ghostly shape floated in the background, but the ornate wooden table illuminated by a hanging lamp with an embroidered shade and strings of glass beads hanging from its edges held their attention. Karen looked at the table and the beautiful chair on the other side.
"Pegasus, my legs feel weak. Do you suppose it's okay if I sit in that chair?"
As they pondered her question, a glass sphere resting in a bronze frame on top of the table filled with a ghostly light. The face of a beautiful woman appeared in it, as if her head were floating, and she had no body.
She spoke in poetry:
Serpents and spiders, tail of a rat
call in the spirits wherever you're at.
Karen and Pegasus, honest and fair,
please take a seat in this lovely old chair.
Karen realized the woman had been speaking to her and now stared at the chair. As she tottered across the room, the disembodied head continued speaking:
Rap on a table, it's time to respond,
send us a message from somewhere beyond.
Goblins and ghoulies from last Halloween
awaken the spirits with your tambourine.
Karen slowly lowered herself into the chair. Pegasus stood behind her. They heard someone rap on the table, but whoever it was, was invisible. Then they heard a tambourine jingle.
The woman continued:
Creepies and crawlies, toads in a pond
let there be music from regions beyond.
Wizards and witches wherever you dwell
give us a hint by ringing a bell…
A bell sounded, and Karen felt shivers run up and down her spine. She almost stood up to run away, but the woman turned and spoke directly to her. Karen knew in her heart that this would not be part of the standard Haunted Mansion ride, when it opened in the future. This was just for her and her horse.
Original Text ©2021, Karen Lynn-Chlup. All rights reserved. (Part of the text was adapted from the actual poem that Madame Leota recited. You can read about it at this link: https://discuss.micechat.com/forum/disney-theme-park-news-and-discussion/disneyland-resort/38124-disneyland-history-the-haunted-mansion-seance-room