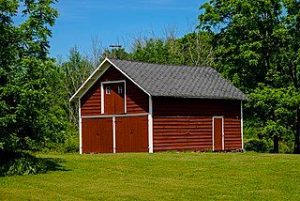 [Image by Daniel Case, CC BY-SA 4.0, via Wikimedia Commons]
Scene 4: Finding the Barn
On Monday, while walking to Pegasus' stable after school, she noticed a nice-sized, empty red barn, just around the corner from an exclusive shopping district.
The barn was big enough for her to do her steps, as well as teach. Peeking in through the windows, she saw it had hardwood floors and mirrors that wrapped around the entire main room. It couldn't get any better. She wondered if it had once been a dance studio, and why she had not noticed it before. But she would not question why. It looked like it had been made to order for her.
This would be just right for me! I hope I can find the owner. What a wonderful place to practice! Pegasus could even put his head through the Dutch door and watch me dance.
It would be a heavenly site to practice and teach, in a dream-come-true location, midway between her house and the stables. It could be her own special hangout. So, with no uncertainty, she walked to the main office of the stable that the barn was part of.
The office was around the corner, with some boutiques. Small shops, each one unique and alluring, filled three blocks of the street. They sold everything from candy to hand-carved artisan furniture to fine art and couture clothing.
The office had welcoming French doors opening from the sidewalk. Kitten peered through the glass at a blonde woman sitting behind a stately, cherry wood Boulevard desk. In her thirties, she had a chic Joan of Arc haircut sculptured around her angular chin. She wore a stylish gray jacket and gray maxi-skirt with a black turtleneck sweater. She looked up and smiled.
Karen thought to herself, Maybe I should go inside. Maybe I should ask this lady a few questions. Maybe she'll know something. It couldn't hurt. The worst she could say is she didn't know! Right? Of course! Why should I be afraid to ask? I give myself permission to be brave. I won't be afraid! My intention is now clear. I'll just be myself and see what transpires. It will be a fresh experience in dealing with others. I've been through way harder things. This will be a breeze.
She held her left arm in her strong right hand and embraced herself as she nourished her inner self.
She remembered the wonderful feeling of liberation she had felt on the bridge Saturday night, but she knew she had to accept her fear and work with it in order to manifest everything she felt within herself.
Kitten also recognized that it was her fear trying to protect her. Thus, she had to walk thru her fear and become fearless. She had to demonstrate and prove this to herself and the universe. She had to send love to her fear and thank that feeling in order to walk through it and not freeze where she was.
When she asked about the barn, the lady at the desk replied, "Sure, I can help you! You want to talk to Mr. Hellweg."
She pointed toward a small, older gentleman with short white hair, who was reading the New York Times.
Kitten smiled. "Thanks a lot," she said, as she marched over to the man.
"Pardon me, Mr. Hellweg. Could I talk with you? The receptionist gave me your name. I saw an empty red barn down the road, close to the stables. I was wondering if I could use it every day to practice my dance routines. These exercises are helping me help others like myself, who have cerebral palsy. I'd like to get as strong as I'm able so I can give of myself and be an example! I give free dance lessons to handicapped children, and I am developing a kind of aerobics for people who have difficulty standing or using their limbs. I call it chair aerobics. I would like to use the barn for that, too."
Mr. Hellweg grinned. He didn't have to think twice. He saw the beauty of her goodness-giving light.
"That's my place! I'm a retired stuntman, and I used to teach Judo classes and indoor stunts there, but I don't use it anymore. It would be wonderful to have it in use again."
With a contented smile, he took a deep, delighted breath, and added, "I'd love for you to work out there. It would be a joy to see you dancing and exercising there. I'm glad to be of any help to you, darling!"
Karen said, "I also have a big, beautiful ballet bar that my dance teacher gave me years ago. Would you mind if I brought it down to the barn?"
"Not at all. I'll even help you attach it!"
Karen was so thrilled she was ready to jump up in the air and click her heels. "Oh, thank you, thank you, thank you Mr. Hellweg. This is so generous of you! You don't know how happy you've made me! Thank you so very much!"
Original text ©2023 by Karen Lynn-Chlup. All rights reserved.