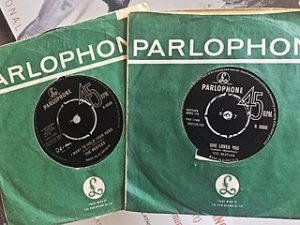 (The picture is of the first pressing of the 45 rpm disc of The Beatles' I  Want to Hold Your Hand. Photo by H. Michael Karshis from San Antonio, USA, CC BY 2.0, via Wikimedia Commons)
Scene 4: Plans, Clicks, and Sobs
As Karen walked down the hall, the click and hum of someone turning on a stereo broke the silence, and then The Beatles' song, "I Want to Hold Your Hand," shook the floor. She closed the door to the bathroom, and after a moment, the volume of the music dropped to background level. Next to the toilet, she found a worn copy of Highlights—something to occupy her mind.
She wanted to relax for a few minutes. The huge whirlpool bathtub called to her. If she could relax in a tub like that, she was sure that the tension her therapists said she carried in her body would relax. Or, maybe Pegasus would say that no matter how enjoyable it was, it was not a substitute for the relaxation that selflessness would bring.
Through the wall that adjoined Sandy's bedroom, the beeps of someone using a touch-tone phone interrupted her review. Then Sandy's voice came through.
"Hello, Peggy, it's me. I wanted to let you know I wanna go shopping at noon. I'd love to pick you up. I'll get Liz on the way, but not the Judith. Not until she apologizes. Wait 'll you see my new wheels—a red Cadillac Coupe de Ville convertible! We will look so cool… Didn't I tell you I could get Daddy to give me his, if I played my cards right? See you at noon! And I have some pot. We're going to be cosmic."
The up and down tones of the touch tone keys sounded again, and Sandy's voice resumed.
"Liz, I was just talking to Peggy. We're going shopping and cruising on Wilshire. Wanna come along? The movie? I was thinking of Sex and the Single Girl? Okay, that sounds like the purr-fect film for us, when we get tired of spending our parents' money. Are you sure they'll let us in?… Yes, of course I have my fake ID. I'm not going to lose it. It's in the glove box of my brand new Cadillac, along with my real driver's license! And I have a lid of pot. We can get stoned before the movie. All right! Let's go! But not the Judith. The Judith can see movies on her own, right? Okay, I'll pick you up a little after noon, and then we'll get Peggy. We'll be the coolest girls in town."
From the other end of the house, Tammy's voice cut in. "Oh, Sandy! Sandy! Mommy's not here, and I'm all scrunched up in the new wheelchair. Can you help me?"
Sandy's voice jumped an octave. "Did you hear that? That was my sister screeching for help, again. That voice grosses me out. She'll never be able to care for herself, but my mother doesn't see that. She's going to spend the rest of her life toileting and feeding my sister, but I won't do that! I want my own life, and when I leave here for college, I'm leaving them both behind. Mommy needs to hire a helper. She gives all her attention to Tammy. That's why we don't have a father anymore. Tammy and her disabilities drove him away… For now, I have to help my sister, but I will not be a slave to her. Liz, I am sorry. I can't believe I'm saying these things. This is so stressful. I'll see you soon. Bye!"
The phone clicked, then Sandra slammed the receiver into its cradle and sobbed. After several minutes, the dial tones sounded again, followed by Sandra's voice, trembling in desperation. "Daddy—you and your answering machine. You never miss a business call, and you never take my call—here I am, again, restricted to a sixty-second message, and not even hoping for a return call. You must hate me as much as Tammy and Mommy. Please call me back. Never mind. I'm sorry I called you. Goodbye."
Sandra's phone clicked, and a series of deepening sobs began. Karen tiptoed back down the long hallway with a heavy heart and a mind full of questions about Tammy's family. Her earlier fantasy about the happiness of the Beaumont home had been replaced by a more accurate understanding that it was a dark prison for Sandy, and perhaps for Mrs. Beaumont and Tammy as well. She looked deep within her soul for kindness and wisdom. Right now she would help Tammy get comfortable.
Original text ©2022 by Karen Lynn-Chlup. All rights reserved.