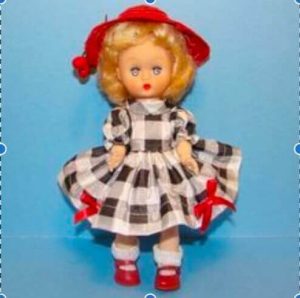 Little Karen has a heart of gold. She decides to take her best doll in its best dress to Claudia's. Anything to help Claudia feel better.
(Image source unknown)
Scene 3: For Claudia, the Best
Kitten felt a burst of energy. She skipped down the hall to her bedroom and laid out her favorite dolls and doll outfits on her bed.
Claudia and her mom have a lot more money than we do, and I don't want her feeling sorry for me or embarrassed because her dolls are nicer than mine, so I'll take my best doll with me, and I'll take my best doll dress, too. We must've eaten a hundred boxes of cereal to get this doll. It's really nice. And this green gingham dress with red, white and blue floral trim and rickrack is beautiful. It even has a big skirt. Mama worked for hours to make it. Claudia will love it.
Original text ©2022 by Karen Lynn-Chlup. All rights reserved.