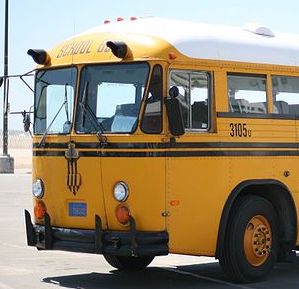 Scene 4: Hello to Mr. Hinton
The bus driver stopped close to the curb and Karen slid from Pegasus' back into the bus.
She turned her little torso and waved good-bye to her stallion. 
"See you later, boy," she said.
Before walking to her seat, Karen greeted the driver with a quick hug. She liked Mr. Hinton, and she knew that he liked her and all the other disabled students. He was one of the few adults who genuinely cared about handicapped children. She wished the experts cared as much as the bus driver did.
Karen took her usual seat and buckled herself in with the black web seat belt. As the bus moved away from her new home, she waved good-bye through the window. Mama had joined Pegasus at the curb and waved back. Mama was crying.
Karen pursed her lips and thought, Every new semester is a fresh start. Mama and Pegasus are right. They speak with the voice of divine wisdom. I need to set an example and not think only of myself, and I need to keep trying until I succeed on my own. Thank heavens for both of them. I would not feel brave enough to face school, now, if I did not know that they will be waiting for me when I get home.
Original Text ©2021, Karen Lynn-Chlup. All rights reserved.