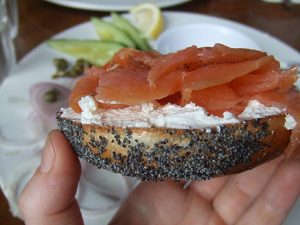 In this scene, little Karen is in a daze from worries over the coming semester. She has only one friend at school, and on top of being lonely she is under the thumb of a group of evil doctors, but she finds strength in her newly-born confidence–and a yummy bagel. (Image courtesy of Helen Cook, CC BY-SA 2.0, via Wikimedia Commons.)
Scene 2: Pre-Semester Worries in the Kitchen
Now that she had part of the supernatural answer, she sadly rose from bed and meandered into the kitchen, with little awareness of anything outside her own thoughts and feelings. She was alone. Mama had left to run her Saturday errands and visit friends. 
In the kitchen, she carefully put her strong right foot onto the lowest rung of a barstool, so she could push herself up and sit down. Mama had left half of a poppy seed bagel on a dessert plate for her. Focusing her mind and drawing on the little energy she felt, she spread it with cream cheese and topped it with lox. She knew she needed good nutrition to get through the next few weeks.   
As she chewed the bagel, her mind chewed over her difficulties with learning new academic material. She would have to master new subjects, and she did not know how she would do it. Challenges always pained her, even as she found ways to succeed at them. Even though she knew she would focus on achieving rather than on failing, she questioned herself and her abilities over and over again.
With the dawn of the new semester, her classmates would talk about what they had done over the winter holiday. Like her, they had all stayed home, but they had stayed home in non-magical ways. 
What could she say about her winter break? She visualized herself standing up in class and saying, "Just before Thanksgiving, my mother and I moved from our little house in the valley into a beautiful Topanga Canyon home. And it's just down the street from the stables, where my magical horse lives. During the holiday break, I got to ride him, everyday, and he told me all about life and love and the yin and yang of existence. And we even went to Disneyland, where everyone thought being magical was great. But then, I also had a dream about finding treasure, so we would be well off, but in the dream I was trampled by hundreds of screaming children, and the treasure turned out to be worthless chocolate candy."
Nobody's going to believe this! How am I going to get through this? How am I going to get along with the other kids at school? And how am I going to make a place for myself in the world, when I grow up? Tammy Beaumont is the only friend I have at school. The other kids all think I'm strange. Nobody's going to believe I have a magical horse. They'll think I'm going nuts. 
She knew that, somehow, she would get through this, and that she would master the academics. But how? For a moment, her raw nerves made her throat dry. She choked on a piece of bagel, and had to gulp water to get it down. 
Then her mind jumped to the dreaded Child Study Team, the group of doctors and so-called experts who controlled every aspect of her education. When would they call her for the evaluation they did on her at the beginning of each semester? They supervised her education and controlled much of her life, even though they saw her only twice each year and had neither feeling nor concern for her as a person.
Fortunately, Pegasus had given her the inner confidence to believe in herself, so she was stronger than she had been in the past. Nevertheless, confronting the Child Study Team and the other students  in January of 1964 would be a test of her endurance, patience, tolerance, and stamina. She knew this.
Original Text ©2021, Karen Lynn-Chlup. All rights reserved.