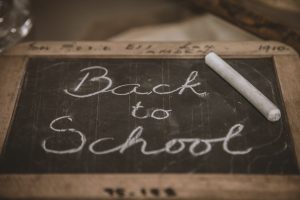 In this scene, worry and fear torment little Karen, as she contemplates returning to school and to the gulf that she feels separates her from her classmates. (Photo by Deleece Cook on Unsplash)
Scene 1: Saturday Morning Worries
December's holidays passed in felicitous gratitude, but then at six-forty-five on the morning of Saturday, January 4, 1964, Karen awoke. The dawn light illuminated her room, and she remembered that the new school semester began in only two days.
She recalled her dream, in which she had re-lived both the ordeal and the inspiration that had followed. The vow to set an example of selfless compassion, which she had made on the sidewalk, rang like a bell in her heart, but as she awoke, her mind churned with worries about the next few days of her life.
She was not physically ill. Rather, she was stuck in a stage of uneasiness due to circumstances at school. Whirling in her mind with an unyielding intensity were worries that upset her composure. She could not understand why she felt anxious, but the more she tried to release these feelings, the more intense they became. Back to school sounded ominous, not happy. She tried talking to herself.
"Shush, Karen,you're going to get through this. Sweetheart, you're going to be okay."
The discomfort and uneasiness remained.
She replied to herself, "What's making me feel like this? I don't know where these feelings are coming from."
Then, her intuition told her. She was experiencing perturbation and consternation, which were natural parts of the yin and yang of happiness, the yin and yang that Pegasus had told her about. She was experiencing the great knowledge of the universe, and knew that her happier feelings would resurface in their own time. Yet, such an intellectual explanation of the universal cycle of happiness and despair brought little comfort to one living through the dark part of it.
Original Text ©2021, Karen Lynn-Chlup. All rights reserved.