In this scene, Karen and Pegasus take one final ride at Disneyland, and her mentor gives her a little history lesson in disability rights.
If you are interested in the text of the letter from Helen Keller that Mark Twain read at the New York Association for the Blind, in 1906, you can read it at this link:
https://www.disabilitymuseum.org/dhm/lib/detail.html?id=2508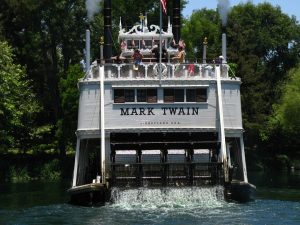 "Mark Twain Riverboat – Disneyland" by Jasperdo is licensed under CC BY-NC-ND 2.0
Scene 12: The Mark Twain Riverboat
After they rode the raft back to the mainland, they also saw a train that went around the park. And then they saw an old fashioned paddle wheel riverboat. It was just about to leave its dock.
"Let's hurry, Pegasus! There's still time to get aboard."
They ran to the boat ramp and were the last ones to board before the big paddle wheel pushed the white boat away from the dock.
They strolled around the broad wooden deck, and then Karen leaned over the back railing so she could see the name of the ship.
"What does it say?" asked Pegasus.
"I'm not sure, boy. Reading is hard enough with dyslexia, but reading upside down is…never mind. I will not complain. Just give me a minute to spell it out."
With complete concentration, she recited the letters, and then Pegasus said, "You just spelled Mark Twain. He was an author, Kitten. You would like his stories. They are full of adventures and brave children, like you."
"Do any of them have disabilities?" she asked her mentor.
"I'm not sure, Kitten, but I know he was a champion of disability rights, especially for blind people. He read a letter from Helen Keller out loud to an audience at a meeting of the New York Association for the Blind, in 1906."
"That long ago?"
"Yes, Kitten. And you must carry on the struggle, just like Madame Leota said."
This gave little Karen more to think about. When the ride ended, she and her steed walked pensively down the gangplank and back to Main Street USA. Time passed quickly, but she was beginning to look forward to going home.
Original Text ©2021, Karen Lynn-Chlup. All rights reserved.