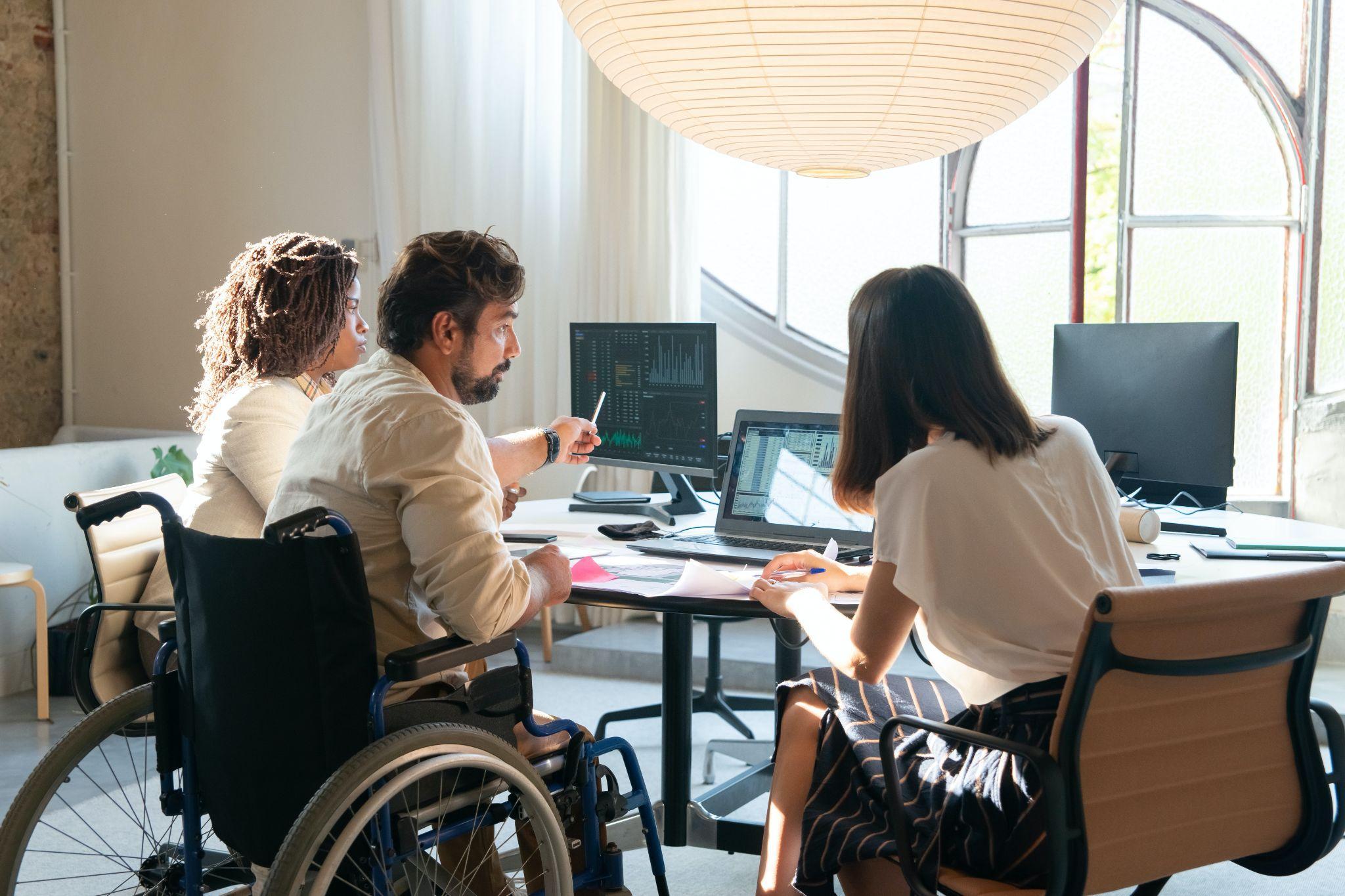 Image via Pexels
[Editor's note: Jillian Day created 508Assist.org to help people all across the web make their sites accessible to individuals with disabilities. She was inspired to start 508Assist.org when a close family member, who happens to have a visual impairment, had trouble finding a dinner recipe online that he could read easily. When she's not chasing after her little ones, Jillian enjoys being outside, whether she's fishing, hiking, or geocaching with her family.]
Living with a disability is difficult. Sometimes it feels like a task getting through a whole day. Now imagine trying to pursue a career or job hunt while disabled; it requires a lot of hard work, persistence, and creativity in order to find a job as a disabled person in America. Unfortunately, people with disabilities do 60% more job hunting compared to those without.
Luckily, new technology is making things easier for people living with disabilities. They are now able to contribute their skills and creativity to the economy in workplaces that were initially designed for people without disabilities.
Making sure that people with disabilities get access to employment opportunities is not only ethical, but it's also beneficial to the economy. Let's see how people with disabilities can use technology to advance their careers.
Job hunting
Thanks to technology, someone living with a disability is able to find employment from the comfort of their home. In fact, unemployed rates for disabled people dropped to 8% in 2018. Also, employers are changing working spaces to accommodate people with disabilities.
More jobs like writing, web design, data entry, and marketing can be done remotely, while other employers want you to telecommute. The internet and smart devices have made all this possible.
There are a million platforms on the web today for people looking for remote or onsite employment. As someone who is disabled, you just need to create an eye-catching resume and apply. This time around you will have the same chance as everybody else.
Moreover, we have numerous materials that you can look through which will help you through job hunting and job interviews. Although you are not required by the law to be upfront about your disability, it's advised that you are. When you freely discuss your limitations and how you are going to tackle assigned tasks, as well as any required accommodations you will need, the interviewer will feel confident that you are the right choice for the position.
Connect with others
However accommodative a workplace may be, you might want to be in a place where you familiarize yourself and are able to relate to people who relate with you. This is why it is important to create a network of people who understand you and may have a similar experience to you.
Thanks to growing technology, there are sites like NARIC that have all the resources you need to help you through every single day. They have a myriad of resources and support groups that will help you connect with people you can relate to.
Another way to network is through social media platforms. Today, everyone is on Facebook, Instagram, Linkedin, and Snapchat. They have many disability groups where you can create conversations, discuss a topic or get your burning questions answered by people going through what you are.
Remote learning
Because of technology, people with disabilities can get a bachelor's degree or a master's online. Also, because of the pandemic, many people find it easier and more accessible to take classes in the comfort of their homes instead of the traditional classroom.
Online schools give you the chance to study while employed and still be able to carry out your daily activities with ease. Online learning has become life-changing. There are a variety of degree programs that will enable you to access different industries, from business to criminology, to marketing, psychology, and others.
When searching for an online school, ensure that it's accredited so that whatever degree or certification you get will be legit. Additionally, make sure that the tuition fees are competitive and you won't have to break the bank in order to study.
Conclusion
People with disabilities face difficulties daily. It's unfair that they have to go through more difficulties in their careers as well. Luckily, with advanced technology, things are a bit easier for them, from accessibility to comfort.