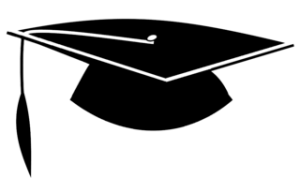 Chapter 41 tells the story of Karen's graduation from high school. It starts with a big surprise. Next week, you can read about how she deals with it.
[Image by AlexBuck328, CC BY-SA 4.0, via Wikimedia Commons]
Time passed, and Karen spent a prodigious amount of time getting her body, as well as her mind, in shape. Some days, it seemed as if she barely had time to breathe, but her painstaking efforts proved well worth it.
She gained an athlete's stamina and outlook by facing problems and challenges rather than running away from them. She learned the value of mentors, and to reciprocate the mentoring and friendship that had been freely given to her, Karen vowed to give back to the world around her unconditionally. This honorable commitment continued throughout her life.
At last, her high school graduate day came, June 14th, 1968. In the wings of the school stage, she waited in the tense, hot atmosphere with her classmates. Under her black academic gown, the beautiful white cotton floral dress her Mama had sewn clung to her body, as it should, beautiful, glamorous. She had accomplished something she never thought she could, graduating high school. As if she were floating, as if she were a movie star on a movie screen, she floated, entering the adult world she had worked so hard to attain.
She wiped beads of sweat from her upper lip. In ten minutes, she and here classmates would walk, roll, or be pushed across the high school stage to receive their diplomas. This would be a day for her to remember. Her only regret was that she could not push Tammy's wheelchair. Mrs. Beaumont had reserved that triumph for herself.
She thought, Mama might not have a good seat. What if Mama could not see her?
Karen stepped out of line and peeked through the curtains. Mama saw her and waved from her seat, front row and center.
Someone tapped her on the shoulder. Was she in trouble for leaving the line of graduating seniors? She stood up straight and turned to look into the eyes of Mr. Sanchez, the school principal. Her eyes widened in appehension, but he smiled.
"Karen, the student who was supposed to be valedictorian and give a speech, is sick. Can you step in? You're naturally articulate. I know you'll find something wise and kind to say."
"Thank you, Mr. Sanchez, but don't you think Tammy is more qualified?"
"She would be good, but you are one of the few people who can understand her speech. Just say anything that comes into your head. Thank your teachers and your mother. Talk for two or three minutes, and you're done."
Karen took a deep breath and looked into her heart. She knew exactly what she would say.
Original text ©2023 by Karen Lynn-Chlup. All rights reserved.