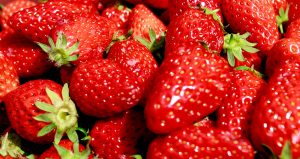 [Image by Changhwan Han, CC BY 2.0, via Wikimedia Commons]
Scene 5: Lunch with Mama
Karen danced through the cafetorium doors and up to the counter. She grabbed a vanilla yogurt and a pack of fresh strawberries, then danced back and sat down next to her Mama. They hugged.
"Mama, I like that electric blue skirt suit. You must have been able to get away from work after all."
Mama smiled and sipped her black coffee. She took the brace out of Karen's hand. "My boss gave me the afternoon off. What's with this thing and the tap shoes?"
"I danced for Dr. Lambert and the experts."
"Did they applaud?"
"No. They just stared."
"I'll bet. And what did the good doctor have to say?"
"That his prescribed therapies were working wonders, because Gilberto's dance lessons couldn't be helping. And I don't need the brace anymore."
Mama shook her head and sipped her black coffee. "That makes sense. They have their positions to defend. They don't want dance instructors competing with them for insurance and government money. You didn't lose your temper, did you?"
Karen noticed her mother's tired eyes and hoped she was not adding to the stress. "I did say something about dance producing dancers and therapies producing cripples."
Mama rolled her eyes and hugged Karen again. "That's my Krana Layala. Gilberto will die laughing when he hears."
Karen nodded. She couldn't wait to tell him. And Pegasus too. "What about this afternoon, Mama? You don't suppose Dr. Lambert will try to get his revenge on me?"
"Probably not. I don't think he can do anything to hurt you. Unless he makes some horrible recommendations, we should focus on getting you more academic tutoring."
Original text ©2023 by Karen Lynn-Chlup. All rights reserved.