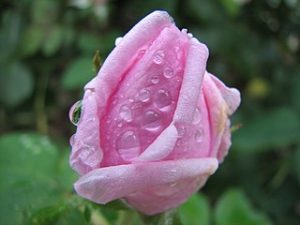 (Image by Audrey from Central Pennsylvania, USA, CC BY 2.0, via Wikimedia Commons)
Scene 5: Blossoming
Outside the Shrine Auditorium, the cool night air cleared Karen's head as she followed Mama and Gilberto down the sidewalk to Mama's car. Gilberto said goodnight and walked to his own car.
Mama cranked the engine and pulled out into the late evening traffic. "I can read your mind, my Krana Layala, and yes, of course you can talk with Pegasus on the way home. But watch where you put your feet in those pretty new shoes. They're not cowboy boots. And I will wait for you in the car. It's too late at night for young ladies to be walking along country roads by themselves."
Karen giggled and leaned back into the car seat. A moment later, Mama shook her. She had dozed off. Mama had parked at the ranch.
She slid out of the car and picked her way across the field to the barn. She did not want to step in something stinky in the dark. In the barn, she slipped into Pegasus' stall and cleared her throat.
He woke up. "Kitten, what are you doing here? It's late, and you look like you're dressed for the opera."
"Actually, it was the ballet, and Gilberto introduced me to the lead dancers. They had me show them my ballet steps and said I will become a dance teacher."
"And they know dance. You can make a big difference in the lives of disabled people. This is not just your dream. It is your mission in life. You will blossom into a dancer and a dance teacher."
Everything good in her life felt reinforced.
Original text ©2023 by Karen Lynn-Chlup. All rights reserved.