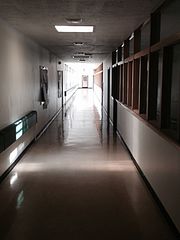 (Image courtesy of Adammoore426, CC BY-SA 4.0, via Wikimedia Commons)
Precisely at ten-forty-five, Mrs. Pinzetti opened the classroom door and walked to Karen's desk. After clearing her throat, she said, "Come this way with me, please," and turned back toward the door. Karen looked up at her teacher, who nodded assent. Shivering from fear, Kitten remained in her chair, unable to stand, unsure of herself and of what she could do. She had heard the anger underneath Mrs. Pinzetti's syrupy tone. She took a deep breath and then followed her down the hallway.
Original text ©2022 by Karen Lynn-Chlup. All rights reserved.