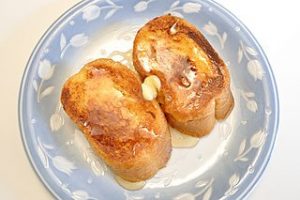 This chapter is mostly reflection on the good and the bad of physical and occupational therapy. In it, we learn more about why Karen is afraid of school. Thank goodness Mama starts her day with French toast in the next scene. (Image courtesy of Ocdp, CC0, via Wikimedia Commons.)
Scene 1: Dressing for School
Six on Monday morning came early. Karen was neither thrilled nor excited about going to school. Her fierce empowerment had waned, and she was, again, a frightened little girl.
The smell of Mama's French toast cooking in the kitchen helped her find a little courage—just enough to dress for the day. From her closet, she picked a cute pink top, a scoop neck, ruffled collar, three-quarter sleeve tee shirt. It looked great with her black denim skirt and matching jean jacket—perfect for school.
Original Text ©2021, Karen Lynn-Chlup. All rights reserved.