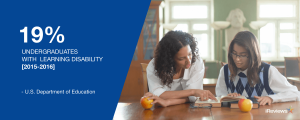 When I wanted to go to college, I literally had to sue the State of California. Now, students with disabilities have a range of excellent colleges and universities to choose from. One of them (Beacon College) is actually dedicated to serving students with dyslexia and ADHD.
Click the link below to read an excellent article with links that will take you to the school websites. It also has admissions department info and ratings.
Many thanks to Johanna Mitra, Content Manager of iReviews, for sharing her article with us. 
Here is the link: Best Schools for Students with a Learning Disability
I have also added a link to the article from the Whispers of Hope page on Special Needs Resources, so you can always find it there.