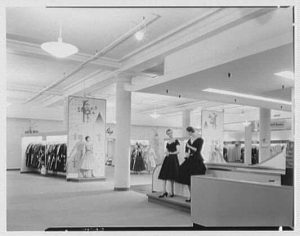 (Image from Gottscho-Schleisner Collection, Public domain, via Wikimedia Commons)
Scene 2: A Trip to Ohrbach's
The next afternoon, Karen and April chattered as they strolled down the school hallway after the last class.
April said, "Maybe my mother will take me someday. I'd love to see the Bolshoi."
They stepped out into the bright afternoon sun. Then Karen stopped. "Mama, what are you doing here?"
Her mother's car sat parked behind the bus. "It's another surprise, my Krana Layala. We're going shopping."
Karen hugged April good-bye and hopped into the Chevy. "Where?"
"You'll see."
Karen kept quiet, but she had a good idea. There was only one store where you could buy a dress elegant enough for the ballet and stay within a budget. Mama turned the car east and headed for Los Angeles.
A few minutes later, Mama drove down the wide stretch of Wilshire Boulevard known as the Miracle Mile. Streamlined art déco department stores lined both sides. She parked in an asphalt lot filled with row upon row of cars and spaces. It took several minutes to walk from the car to the swinging glass doors with Ohrbach's written in red above them. Karen could not stop herself from sighing.
The spacious interior showcased everything a stylish young lady would wear, from beautiful hats to stunning shoes. Together, they selected a gorgeous red velvet dress with elbow-length sleeves and a ballerina skirt, very full and falling almost to her ankles. The dress closed with small, light brown wooden buttons that ran from the top of the bodice to the hem of the skirt. For her feet, they chose red leather dress shoes—not shiny but matte, so they were in style, and with a one inch heel to be age appropriate.
Mama held the shoes. "Your hard work is paying off. A while ago, you had to wear orthopedic shoes. Now, you wear pumps."
Karen beamed. It was a major accomplishment. For a hand bag, she picked a red velvet purse with a matching velvet strap so she could hang it over her shoulder. Last came a red velvet headband to hold her thick, shiny ponytail in place.
A sales lady assisted them as they carried everything into a fitting room, where Karen changed into her ballet evening outfit before opening the door and stepping out with her head high. She stood still in front of an array of three mirrors that showed how she looked from the front and the sides. Behind her in the mirror, Mama's eyes glistened with tears of joy.
Original text ©2023 by Karen Lynn-Chlup. All rights reserved.