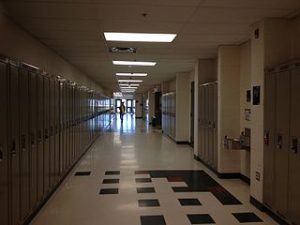 (Image by ChadPerez49, CC BY-SA 4.0, via Wikimedia Commons)
Scene 3: Walking Back to Class
Without waiting for her to leave, he began scribbling his notes. She saw that he had no interest in engaging with her, whether before, during, or after the test. He had no interest in her at all. From the moment he had left her behind, as his long legs rushed him toward the examination room, to the moment when he dismissed her with a wave toward the door, as if she were too stupid to see the only exit from his office, he had treated her with contempt. She wondered why he had become a school psychologist, since he clearly had no sympathy for disabled students.
Walking through the hushed hallway back to her classroom, she thought to herself.
I know I'm smart. I may take a little longer at topics I don't know, but I'm not retarded! I want to talk with Tammy and Pegasus.
Original Text ©2022, Karen Lynn-Chlup. All rights reserved.