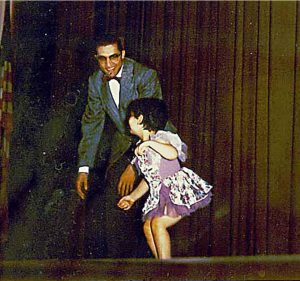 This is my second post about my interview with
This Able Team
. The transcript follows and you can read it on their Instagram, too. Just click
here.
Be sure to read their other posts, too, especially with
Dr. Sean P. Dineen.
The photo is of me as a little girl with my dance teacher, the great Al Gilbert, who taught me to dance when the doctors said I would never walk.
Here is the transcript:
"I started Whispers of Hope back in 1989. I started it because I wanted to give myself to other people, to tell them that they're not alone, that they can do whatever it is that they desire and what they want with their lives. I could be a voice to help them get through it. I speak professionally and I give my time without any charges to people who need it. That's what I've done. Actually, I started advocating when I was a small child in grammar school. I had a girl friend who had cerebral palsy as well, but it was far worse than mine, and she was quadriplegic and had a speech impairment, she couldn't do anything for herself. I used to help her in all ways, I used to feed her, we used to do homework together, we used to do everything together.
It was a beautiful interaction, it went through elementary school, junior high, and high school. When we graduated high school, somehow we just hooked up at the same junior college, Santa Monica College. We just kept our relationship from then on and it just built. We were there for each other. I don't remember a time when there were many people in the schools who would do what my girl friend and I did, help each other be there for each other instead of bullying and hurting each other. We were there for each other and it made sense. It was almost like a family outside of a family. We were helping each other and empowering each other. When we had our appointments with the doctors, we would empower each other there. We would just work and give each other words of hope and encouragement, always."